Tissue/Poly/Tissue Medical Drapes
In the operating room, it is vital to maintain a sterile environment. This has been shown to increase desirable patient outcomes and leads to faster recovery times. To create and maintain a sterile field to provide patient care, those on the healthcare team use disposable drapes to create barriers between their sterile equipment, the sterile field they work within and around the surgical site.
What are Disposable Drape Sheets?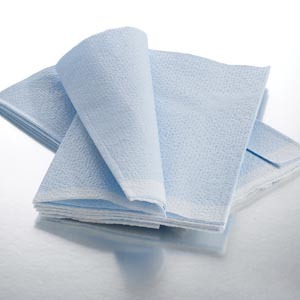 Disposable drape sheets are made up of layered tissues and designed to maintain an impenetrable barrier between a sterile field and the environment surrounding that field. They reduce the risk of contamination to the patient and have been proven to improve desirable outcomes after invasive procedures.
Disposable Drapes for the Multiple Needs of the Healthcare Team
To aid medical providers in providing patient care, a variety of medical drape sheets are available to fit the many different requirements of healthcare today.
Surgical Drapes
Non-fenestrated Drapes
Fenestrated Drapes
Incise Drapes
Sterile Field Drapes
Which Disposable Drape Sheets Are Right For You?
1. Surgical Drapes
The surgical team should use surgical drapes to create a sterile barrier between the environment in the operating room and the surgical tools. Surgical drapes are also used to cover non-essential areas of the patient to prevent contamination of the surgical field.
2. Non-fenestrated Drapes
Non-fenestrated surgical drapes are used when an operation is on a localized area of the body that does not require an operating room setting. A healthcare provider should use these to surround the site of the injury to create a sterile field when providing treatment. These drapes do not have openings (or windows) in them; they surround the surgical site rather than cover it. In this way, they differ from fenestrated medical drapes.
3. Fenestrated Drapes
When treatment requires a precise area to work within, fenestrated surgical drapes can be used. These surgical drapes provide a barrier between the patient and the operating team with the added advantage of a window-like opening (fenestration) in them that allows the surgeon to work in a precise field of operation.
4. Incise Drapes
An incise surgical drape is a transparent adhesive dressing placed over the skin where the operation will occur prior to an incision being made by the surgeon. It allows the skin to breathe, even through long procedures, and therefore prevents moisture from building up underneath. This type of surgical draping allows the skin to be manipulated so the surgeon can access the site while also providing a barrier to prevent contamination of the surgical field.
5. Sterile Field Drapes
Sterile field drapes are used for bedside procedures that require a sterile field. The nursing team utilizes these kinds of medical drapes when performing tasks such as inserting an indwelling urinary catheter or performing a tracheostomy suctioning.
How do Disposable Drape Sheets work?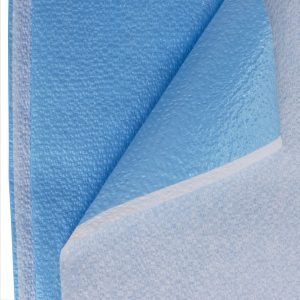 Medical drapes work by layering multiple layers of absorbent paper-like tissue material together with a base layer that is impenetrable to liquids. This provides a sterile field to perform invasive procedures or handle the equipment involved in them without allowing environmental contamination to occur within the sterile field.
Benefits from the Application of Disposable Drape Sheets in Healthcare
With application usage that is backed by research in improving patient outcomes, there are many benefits to using disposable drapes when providing care. In the operating room, this vital step in preparing a surgical field – and patient – ensures that all precautions have been taken to keep the patient safe during an invasive procedure. When nurses utilize sterile field drapes, they are following the standards of evidence-based practice to reduce the risk of introducing an infection to their patient.
Brands dealing in Disposable Drape Sheets
Myflon
Bodyguard
Microprotec
Fabulous
In Summary
Disposable drape sheets allow a surgical team to provide the safest operating environment to the patient by blocking the contamination of both the surgical site and the operating tools. Sterile field drapes allow nurses to safely perform bedside procedures by establishing a sterile field to work with right in a patient's room. Most importantly, this important preventative tool in patient care improves patient outcomes and ensures that patients are as protected as they can be when undergoing invasive procedures.
If you are looking for the Disposable Drape Sheet Manufacturers or Suppliers, you are in the right place. we are one of the best Tissue Drape Sheet producer in Turkey. Contact us now, we will give you the surprise wholesale prices as possible as we can.